As part of her visit to Ghana, the Vice President of the United States of America, Kamala Harris met some people from the creative industry in Ghana on Monday, March 27, 2023.
The meeting which took place at the Vibrate Space studios in East Legon had in attendance artists like Black Sherif, Amaarae, M3nsah, Joey B, Ria Boss, Baaba J, and Poetra Asantewa. 
Award-winning American actress Sheryl Lee Ralph and British actor Idris Elba were also present.
In her address, Kamala Harris spoke about the great connection between Ghana and America and appreciated the works produced by Ghanaian creatives.
She added that the culture and creative industries are influencing the world beyond measure.
"The creative work that is happening on this continent as represented by the work that is happening right here, is extraordinary in terms of the international global impact. And this is not a new phenomenon. But it is something we've done with all the current excitement about the evolution of culture and music," she said.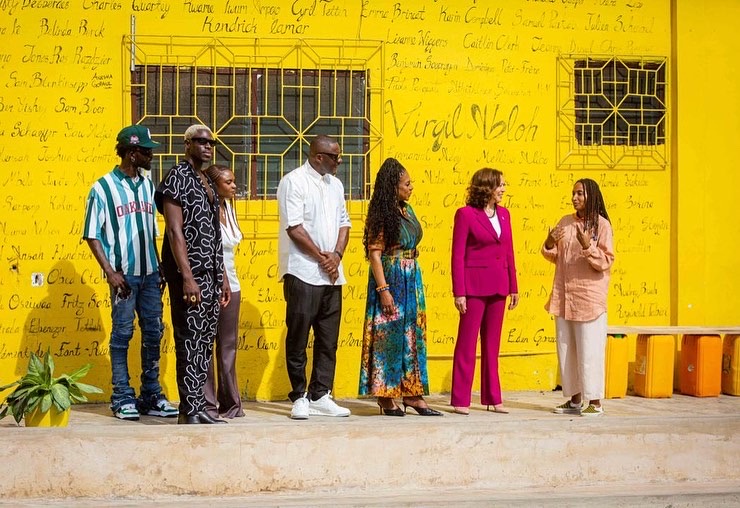 Sheryl Lee Ralph stressed the need for creatives to invest in themselves.
"You must invest in yourself, in your art first and then you burst it out to the world. We've all done it. And it's been hard for us, just as it will be hard for you. But as artists we never let the difficulties stop us," he advised. 
Idris Elba also reiterated the need to promote the entertainment industry and urged creatives to work harder to push their craft.
"This trip is significant in the right direction but don't forget it starts with you, it starts with hard work, it starts with places like this so we can see more talents roll out from this 
Later, Kamala Harris announced in a tweet she had created a playlist that features Ghanaian artists Black Sherif, Amaarae, and others on the music streaming platform Spotify. 
"I am releasing a playlist featuring the artists from my travels across Ghana, Tanzania, and Zambia, including many of the Ghanaian and Ghanaian-American artists I met today like @blacksherif_ and @amaarae."
Other Ghanaian artists whose songs got featured on her playlist are Herman Suede, Kuami Eugene, Baaba J, M3nsah, Ria Boss, and Sarkodie. 
Source: Kwame Dadzie