The National Identification Authority (NIA) has been forced to suspend ongoing mass registration exercise in the Eastern Region effective Saturday, March 21, 2020.
This follows an interlocutory injunction application filed at the High Court by two individuals, effectively restraining the Authority from continuing with the mass Ghana Card registration.
Until the determination of the application for an interlocutory injunction by the court, the registration exercise remains suspended, the NIA said in a memo to the staff.
"All staff are required to report for work and render proper accounting of registration equipment, materials and consumables in their custody to the Senior Registration Officers (SROs) with immediate effect," the memo read in part.
SROs are to hand over these items to the District Registration Officers who are to confirm the inventory while they await further directives from the Head of Operations, Col. Peter Kofi Ghansah (Rtd).
Mounting pressure
The NIA come under pressure to call off the mass registration in the Eastern Region following the ban on public gathering by President Nana Akufo-Addo, after Ghana started confirming positive cases of the deadly new coronavirus disease (COVID-19).
The Ghana Medical Association (GMA) in a statement issued Wednesday, noted that the exercise being carried out defeats the precautionary measures issued by President Akufo-Addo as means to combat the COVID-19 outbreak.
Ghana confirmed its 16th coronavirus case on Friday, March 20, 2020, but fears are that the numbers may increase exponentially in the coming days.
The Authority has, however, been adamant to the calls for suspension.
Injunction application
On Thursday, two individuals filed the motion for an interlocutory injunction to be placed on the ongoing Ghana Card registration exercise because it goes contrary to the announcement of a ban on public gatherings by the President.
The applicants, Kevor Mark-Oliver and Emmanuel Akumatey Okrah, are praying the court to "restrain the Respondents from continuing with the mass registration and issuance of the Ghana card in the Eastern Region pending the final determination of the Human Rights Application."
The NIA is not the only respondent as the Attorney-General has been jointly sued.
Meanwhile, the NIA, following the suspension of the exercise, has asked its staff and field officers to strictly adhere to the prescribed protocols on preventing the contraction and spread of the deadly coronavirus.
Below is the memo signed by Head of Corporate Affairs, Francis Palmdeti.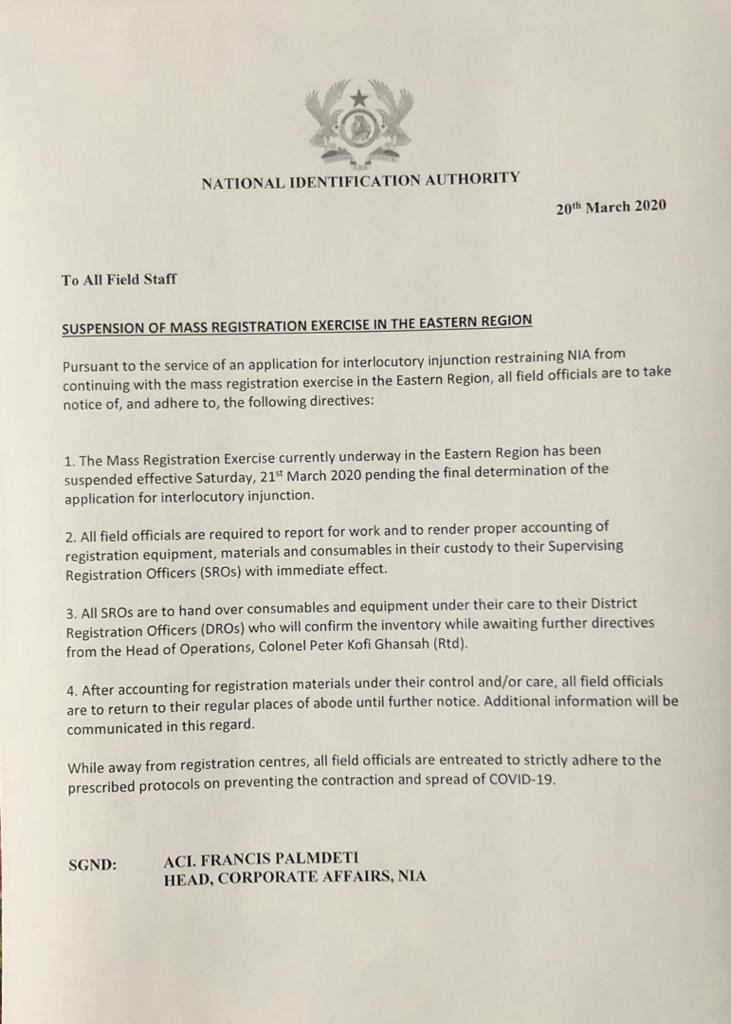 Source: MyJoyOnline.com