"Was it really necessary?" a query quizzed instinctively from home while watching MSK Zilina Africa vs NaGod FC in the Division one league playoffs at the Accra sports stadium, bearing the weight of schoolwork.
He walks out of the tunnel, chest open and glaring, to sit on the bench as the Zilina passionates cheerfully chants, "Game changer! Game changer!" I look with an array of surprises, given the numerous talents spotted in the Zilina team and he is given a special compliment.
A sudden interest to know his name, Kingsford Boakye Yiadom, a teammate shouts. The glamour to see him play, impact and change the game when NaGod FC is cruising on a one-goal-to-nil at half-time left the whole stands withered.
Elegantly built with tights and calf, an uproar in arms. He shakes up to be subbed into the second half of the match, hopes embroidered in a namaste position. Indeed he changes the game, a chant well served.
Kingsford Boakye Yiadom, born in 2004, is gifted with skill sets reminiscent of elite footballers like Eden Hazard, and Leroy Sané, among other impactful wingers in the modern game.
The Ghanaian wonder-kid possesses great qualities ranging from speed, close control, cataclysmic in 1 v 1 situation, and being a good goal poacher. His archetypal stay on the wing role gives him the efficiency to cause more problems for opposition players.
The 18-year-old has made six and five appearances for Ghana's U17 and U20 teams, respectively. He, however, won the WAFU & AFCON (U20) cup before having his stint with Accra-based Division 2 side MSK Zilina, his current club.
The attacking midfielder-cum-winger sees a mouthwatering long-term deal with European giants AC Milan under the supervision of Ghanaian-based Italian football agent Oliver Arthur.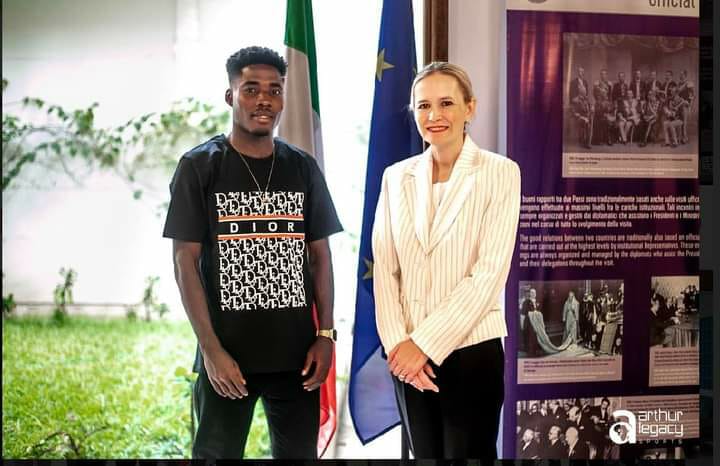 Kingsford Boakye Yiadom is expected to join the youth team of AC Milan to ensure ease and enhancement of his talent before making headway into the senior team.
Source: Joseph Ayinga-walter